25 July 2023, Thailand
Green Gold Energy ("GGE"), an Australian renewable energy turnkey solutions provider, is thrilled to announce its collaboration with Sunshine Beach Resort and Residence ("Sunshine Beach"), an award-winning beachfront development in Phuket, to sign a contract for the 1MW micro-grid project. This partnership represents a significant milestone in the nation's journey towards sustainable energy and reinforces both companies' commitment to environmental stewardship.
The strategic collaboration aims to harness the power of solar energy, significantly reducing Sunshine Beach's carbon footprint while contributing to Thailand's renewable energy goals. The 1MW micro-grid project will be one of the most significant installations in the region, and its successful implementation will serve as a benchmark for eco-friendly initiatives within the hospitality industry.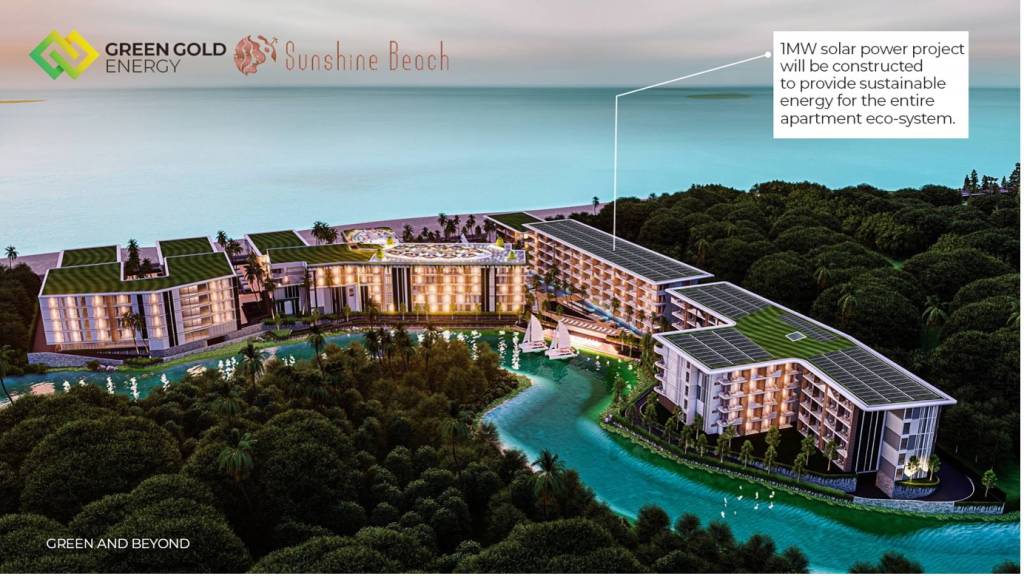 The solar project will be designed and executed by Green Gold Energy's in-house engineering team of experienced engineers and technicians. Their expertise in solar energy design, installation, and maintenance ensures that the project maximises energy generation while seamlessly integrating with the service apartment's existing infrastructure.
The Micro-grid system with Solar, Battery, and EV Charging Stations significantly contributes to decarbonization by reducing approximately 912.5 tons of carbon emissions per year. It achieves this through clean energy generation, energy storage, and electric vehicle charging. Additionally, the system powers various facilities, promoting self-sufficiency and reducing dependence on conventional energy sources. This leads to cost savings and strengthens the economic viability of green energy solutions for businesses. Implementing such micro-grid systems is crucial in the fight against climate change and advancing towards a greener and more sustainable future.
"We are delighted to join hands with Sunshine Beach to drive the adoption of renewable energy in Thailand," said Mr. John Huang, Managing Director of Green Gold Energy. "This collaboration exemplifies the power of private and public sector partnerships in advancing sustainability. By tapping into the abundant solar resources of Thailand, we aim to not only make a positive impact on the environment but also demonstrate the cost-effectiveness and long-term benefits of solar energy solutions."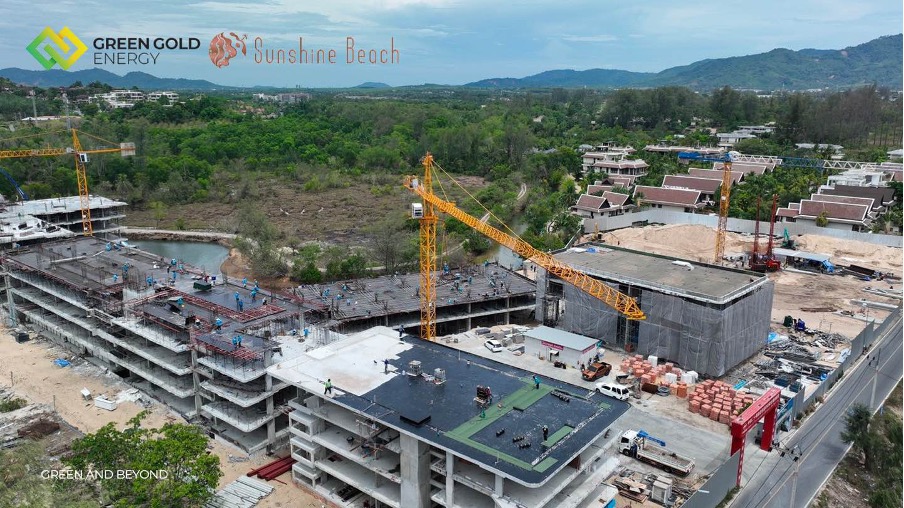 "We take pride in providing exceptional hospitality experiences to our guests, and our partnership with Green Gold Energy aligns perfectly with our commitment to eco-consciousness," said Miss Kornthip Riankrai, Director of Sunshine Beach. "This solar project not only represents a significant step towards sustainable operations but also sets an inspiring example for our guests, partners, and the broader hospitality industry."
Green Gold Energy and Sunshine Beach are excited to embark on this transformative journey together, bringing innovation and sustainability to the forefront of the Thai hospitality industry. Through this landmark solar project, both companies are determined to create a brighter, cleaner, and more sustainable future for the nation and beyond.
For media inquiries, please contact:
Green Gold Energy
Contact: Joy Yang, Marketing Manager
Phone: +61 452 233 222
Email: joy.yang@greengoldenergy.com.au
Website: www.greengoldenergy.com.au
Sunshine Beach
Contact: SISI LI, Marketing Manager
Phone: +66 81 196 4067
Email: sisi@thphuket.com
Website: www.sunshinebeachphuket.co
About Green Gold Energy:
Green Gold Energy is a company providing turnkey solutions for Solar + Projects, which include BESS, Micro-grid, Hydrogen, EV Charge Station and Data Centers.
Since its inception, Green Gold Energy has maintained close ties with local government and network service providers. It has become a pioneer in the field of the renewable energy industry in Australia, with projects in South Australia, Victoria, New South Wales and Queensland  And has a development pipeline of over 1.2 GW of Solar plus 2 GWh BESS.
About Sunshine Beach Resort and Residence:
Sunshine Beach Resort & Residences is a new residential and investment complex in Phuket. The infrastructure and setting of the project are unique. A 2,500 square-meter swimming pool that wraps around the entire development, giving ground-floor residences direct access to the water, will be a defining feature of Sunshine Beach. Sunshine Beach Resort & Residences, branded "The Best Lifestyle Condotel and Residences," will offer guests everything they could possibly need for a comfortable and opulent stay, including a Kids' Club, rooftop and pool bars, a massage centre, a gym, as well as its own Aquarium restaurant and facilities on the beach.